(show all) (first) (prev) 1 2 3 4 5 6 7 8 9 10 11 12 13 14 15 16 17 (next) (last)
Journal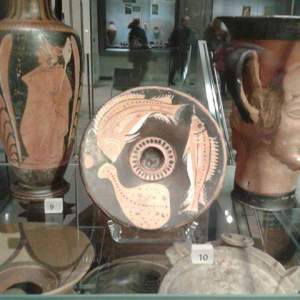 Art-based Poetry Feedback ~ Two Bream and a Ray
22/11/2015
I've created a poetic menu based on a Roman Fish Dish in the Ashmolean Museum (see image to the right).
"To say you have a unique and original style is an under statement.
  It's so appealing in it's layout and the light touch and humour belie the
knowledge and information contained underneath."
Tony Vincent Isaacs, Musician and Poet
Cows at Cookham by Sir Stanley Spencer
24/10/2015
A poem/lyric/script by Diana Moore, inspired by Stanley Spencer's painting of Cows at Cookham, Modern Art Gallery, Level 3, Ashmolean Museum.
The theme for October's readings was (a) Modern Art, and (b) based on 19th century French poet Stephane Mallarmés Meaning: Interplay & Interconnections.  I was attracted to Cows at Cookham in the Modern Art gallery which fitted one part of the remit, but I didn't know much about Mallarmé... yet... How could I interplay and interconnect...? What made him tick...? Well... I discover that he influenced Claude Debussy who composed a piece called L'après-midi d'un faune... (afternoon of the faun) based on one of Mallarmés poems. Music, music... I do enjoy music... I listen to Debussy... I connect Debussy and the cows... have you ever heard a cow moo Debussy...? My thoughts develop into a poetic script for two voices.
If you would like to hear the poem or if you would like me to visit your school or establishment to share my art-based poetry workshops, please do get in touch.
Further information on Stephane Mallarmé at http://www.poetryfoundation.org/bio/stephane-mallarme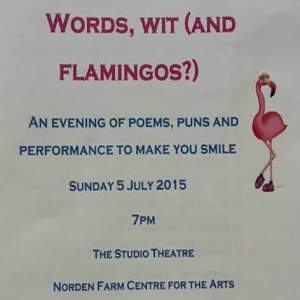 Words, Wit (and Flamingos?)
07/07/2015
The Adult Dyslexia Centre proudly presents:  Words, Wit (and Flamingos?) 5th July 2015.
I've had a wonderful time at the Adult Dyslexia Centre in Maidenhead, working with the group to develop their writing skills into performance pieces and leading on to a production at The Studio Theatre at Nordern Farm. Here is what Debbie, the Centre Manager has to say:
'Diana was recommended to us by a Centre tutor who had heard some of her performance pieces and felt that she would work well with our group. Our performance 'Words, Wit ( and Flamingos)' was put together with tremendous panache and professionalism in only 4 weeks. It consisted of 32 short items of humorous writings (mostly written by the members) with performance and dance. What an achievement - to enable a group of dyslexic adults who have difficulties with words, sequencing and memory to feel confident performing in a theatre to an audience who thoroughly enjoyed the show. Thank you, Diana, for all your, patience, perseverance and belief that we could 'produce the goods'.
Debbie Farnfield,
Adult Dyslexia Centre Manager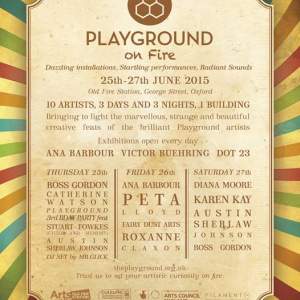 Playground on Fire at the Old Fire Station
18/06/2015
I am delighted to be a part of the Playground on Fire events. I shall be in the Gallery on Saturday 27th June from 3 - 4 p.m. Joining me will be: actor Jon Crowley and soprano Anna Shackleton. Together we will be presenting 'A VISITOR TO THE FOREST'.  There will be singing and acting/improvising of extracts from this arts-based performance poem inspired by Paolo Uccello's The Hunt in the Forest. Audience participation is invited. All welcome.
A Visitor to the Forest is available from Blackwells and the Ashmolean Museum shop, also online via Amazon.co.uk
Events and Workshops April, May, June, July 2015
31/03/2015
Here are a few of the workshops and events that I have booked for spring and summer.
Ashmolean Museum ~ poetry workshop for adults with learning difficulties based on 'The Hunt in the Forest'
Residential Care Home ~ poetry readings, performance and discussion
Adult Dyslexia Centre ~ comedy, poetry, writing and performance workshop leading to a theatre production
Stagecoach Theatre Arts School ~ Poetry performance workshops with mini musical/acting performances for each age group ranging from age 6 to 18 years
April 2015 Feedback following my visit to Chiltern Grange Care Home: "Thank you very much to the lovely Diana Moore for carrying out an 'Introduction to Creative Writing and Poetry' session for our residents. An informative, interesting session filled with lots of humour! Your poems were brilliant, we look forward to seeing you again soon." Corinne Smith, Activities Manager
Coles Bookstore in Bicester
07/03/2015
Thanks to Caroline at Coles Bookstore in Bicester for her continued support in stocking my latest book A Visitor to the Forest which is an art based poem designed for performance and suitable for ages 7 to adult.  Here is a link to Coles - it is a lovely independent book shop in Crown Walk, Bicester. wym-1432049712180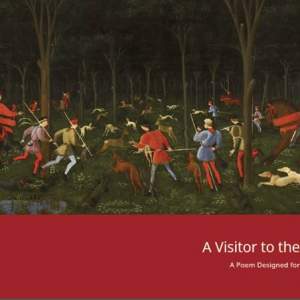 Testimonial
17/02/2015
 I met Diana Moore through the readings in the Ashmolean museum. Her poems have a lovely sense of fun and wordplay, and she has a wonderful instinct for making texts which will appeal to children in performance. This little book contains one such poem, inspired by a famous painting by Uccello. Dr Giles Watson, University of Western Australia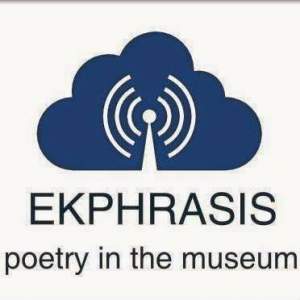 Testimonial
19/01/2015
In 2012 I had the pleasure of reading with Diana Moore as part of the Ashmolean Museum's 'Poetry and Pictures' program, and since then, I've been witness to her meticulous craftsmanship and professional approach. Diana's poetry is imaginative and playful; a welcome reprieve from the monotone readings one comes to expect. Diana brings a musical element to the poems, whispering, chanting, and singing. I'm always surprised and delighted by Diana's theatricality, playfulness, and humour. She is a natural performer, whether in schools, special needs groups, museums, or on the BBC. Her books can be found in Blackwell's and Waterstones. Her latest book, a poetic response to Uccello's Hunt in the Forest, will be available in the Ashmolean Museum shop this year.
Jalina Mhyana (www.jalina.co.uk)
Director, Ekphrasis / Poetry in the Museum
Poetry Evening in Witney
18/12/2014
Poetry celebrating the Dylan Thomas centenary  wym-1418924537478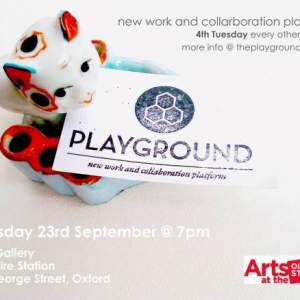 Playground ~ New Work and Collaboration Platform
13/09/2014
http://totheplayground.wordpress.com/2014/09/12/lets-not-go-back-to-school/
Looking forward to being in the Playground on Tuesday 23rd September....
The Gallery, Old Fire Station, George Street, Oxford
New book coming soon
15/07/2014
My next book is a poem designed for performance based on Paolo Uccello's 'The Hunt in the Forest'.
Open Mic at Blackwell's Bookshop, Oxford
02/07/2014
After a busy day of poetry sessions in a local school, I went along to Blackwell's Bookshop for the open mic evening.  There was a very good crowd in attendance and I was delighted to receive a real show of appreciation for my humorous poems.
Poetry in residential homes ~ feedback
14/05/2014
Feedback from recent visits to individuals and groups in residential homes:  June from Letcombe Regis said "fascinating, and very stimulating". The ladies at Fairfields in Oxford said "Do come back". So do get in touch if you would like an interesting session on Creating and Writing Poetry. There is an array of subject matter available (for these sessions) from art and poetry, poetry and pictures, to Edward Lear nonsense as well as historical (e.g. Henry VIII) and contemporary poems.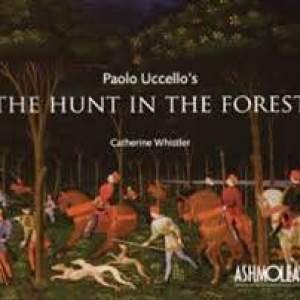 Ashmolean Museum ~ poetry in the galleries
29/04/2014
Received lovely feedback on my lyrical poem based on 'The Hunt in the Forest' by Paolo Ucello.  If you would like to hear the poem, do get in touch. It will be good to share with a wider audience. There is an interesting book written by Catherine Whistler on the subject of this wonderful painting. You can buy it in the Ashmolean shop for £5. Another poetry tour coming up on 24th May at the Ashmolean Museum. I will have a new piece (yet to be decided) ready for 14th June poetry tour.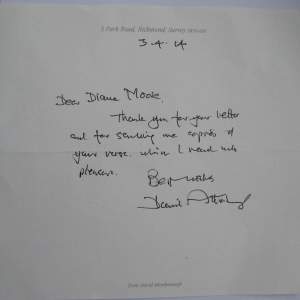 Hand-written letter from Sir David Attenborough
10/04/2014
It was lovely to receive a hand-written letter from Sir David Attenborough in his no doubt very busy schedule, thanking me for the 'A Fishy Coat Tale And Other Poems' book and a view of my new nonsense verse specially written for Edward Lear, a poetry collection that is due to be published in 2014.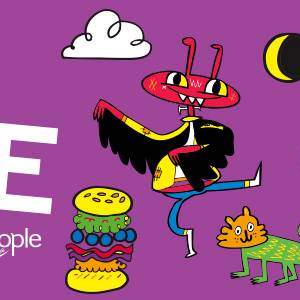 Southbank centre ~ 15th February 2014
06/02/2014
http://www.southbankcentre.co.uk   Delighted to say I will be performing a poetry showcase to an audience of under 12's and their families here at Southbank Centre on 15th February 2014
Ashmolean Museum ~ 'Two Bream And A Ray'
28/01/2014
Thanks to all who came along to the poetry tours including our regulars, first-time visitors, and to Cheryl, our tour guide for the day.  We had good size audiences and lots of positive feedback on the wide range of poems and subject matter.
Ashmolean poetry in the galleries
18/01/2014
  Next poetry tour is on Saturday 25th January 12:30 to 1:30 and 2:30 to 3:30.
I will be performing Two Bream and a Ray based on a Roman fish plate.
Flamingo goes to Lincolnshire
12/01/2014
A little bird tells me....  as a result of the performance at Ashmolean, Flamingo Calypso was introduced to children at a school in Moreton, Lincolnshire.
Ashmolean Poetry Tour
07/12/2013
The Greater Flamingo slipped out of his aviary (Jameel Centre) for a performance of 'Flamingo Calypso'. Thanks to the visitors who came along specially (on a busy Christmas shopping day), and who were great sports and joined in with the 'song and dance'.
Ashmolean Museum ~ poetry in the galleries
18/11/2013
Next poetry readings in the galleries are on December 7th.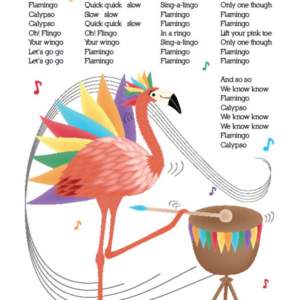 Flamingo Calypso at Wantage Literary Festival
17/11/2013
Event date: 24th October 2013
It was lovely to meet Teachers and Class 2 children from Wantage Primary School and Charlton Primary School.  Children participated in singing, dancing and mimicking animal noises. The two schools were the first to try out my newly created FLAMINGO CALYPSO poem/song which I wrote specially for the event.
© Diana Moore Design: Possage.com
Wantage Literary Festival 2013
15/10/2013
 Wantage Literary Festival is fast approaching. Here is a link which you may like to explore. http://www.wantagebetjeman.com/store/ I will be doing a poetry event for 120 children.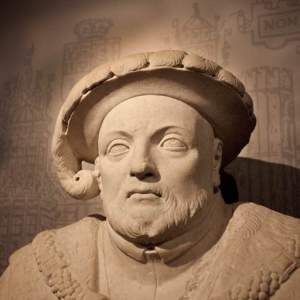 Ashmolean Museum ~ Henry VIII and his six wives
05/10/2013
POETRY AT THE MUSEUM.  It is good to receive feedback - especially when it is positive! A number of visitors came up to thank me after my 'brief poetic overview' of Henry and his wives. It was my first attempt at seven different voices...! Thanks also to John, for taking the time to drop me a line to show his appreciation.