(show all) (first) (prev) 1 2 3 4 5 6 7 8 9 10 11 12 13 14 15 16 17 (next) (last)
Journal
Ashmolean Poetry Tour
28/02/2019
 29th June 2019
Ashmolean Museum, Oxford
Meet in Gallery 21
Planning Your Writing Career
28/03/2018
28th March 2018 Event:  ~ Planning Your Writing Career ~ Oxford University Careers Service
Hosted by Oxford Writers' House
Today I was on the panel for this interesting event:
Join Oxford Writers' House and Writers in Oxford for a night discussing the realities of making your writing into a sustainable career. This is your opportunity to meet with writing professionals from playwrights to poets, editors to journalists, scriptwriters to novelists to get to grips with what to expect and how to transform your passion into a way of life.
We'll be hearing from: Non-fiction, journalism - Melanie King Radio, TV - Jean Buchanan Fiction, short stories - Lorna Patterson Poetry - Mariah Whelan
Poetry and Performance - Diana Moore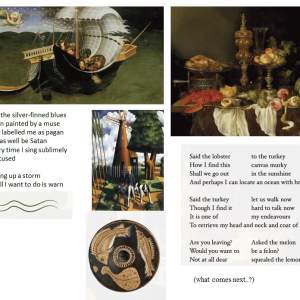 A Poetry Tour in a Book at the Ashmolean Museum
03/02/2018
with Diana Moore 
Feedback:
Ashmolean Gallery Lecturer Cassie O'Brien, had this to say:
"Your witty and perceptive responses through poetry and song were very engaging and fits in well with the Ashmolean's open door philosophy towards creativity in all its forms."
Regular visitor Joanna said: "This is brilliant how you've put it all together".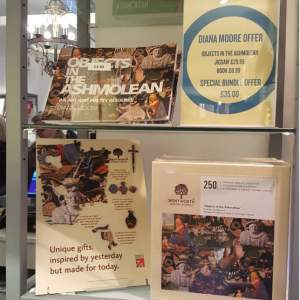 Ashmolean Museum
27/12/2017
Wooden Jigsaw Puzzle
There is a jigsaw available of  the 'Objects in the Ashmolean' book cover; here it is in the Ashmolean Museum shop along with the book. (it's also in Blackwell's - image below).
The jigsaw - made by Wentworth - has unusual shaped pieces and whimsy cut-outs which, in this particular jigsaw, relate to museum objects. The edges are not what you'd expect either. It really is a fun and interesting way to piece art and history together!
Ashmolean are currently running a promotion on the book and jigsaw, while stock lasts.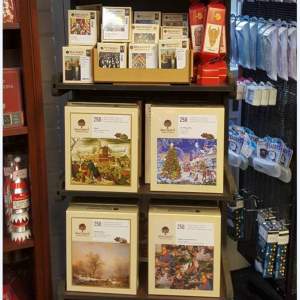 Wentworth Wooden Jigsaw Puzzle
20/12/2017
Blackwell's, Oxford
 Objects in the Ashmolean ~ jigsaw and book are available in Blackwell's.
The book is an art and poetry resource, and the jigsaw is a fun way to piece art and history together.
Montessori International
19/12/2017
 Chief Education Officer Barbara Isaacs has kindly reviewed my book: Objects in the Ashmolean, An Art and Poetry Resource, it is published in their winter magazine 2017/18 (Issue 123).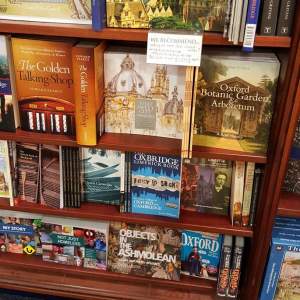 Previews and Reviews of Objects in the Ashmolean
12/07/2017
An Art and Poetry Resource by Diana Moore:
Mathew Tobin says:
The format of seeing the image, then the poem works very well, and the watermark behind is lovely. Visually the book is great.
I enjoyed the wit of Two Bream and a Ray very much – humorous language play and a narrative which had me smiling throughout.
The kiddies menu is just wonderful and I can imagine the whole conversation happening right there.
The Henry play-poem is wonderful and is crying out to be performed and laughed at. A wonderful, informative piece of parodic poetry!
I also thought the dual narrative in A Time to Bond was very clever indeed and would want my own class to take similar approaches with other paintings too.
The Lobster and the Turkey shows the wonderful, tongue-in-cheek sense of humour that you have in which your deft play with words and ideas brings pleasure to the reading.  It would sit very comfortably next to anything by Nash or Lear.
I have to say it was a real pleasure reading through the book, Diana; so many different forms and poetic devices which makes the reading so rich and entertaining. It was a pleasure from cover to cover and makes me want to go spend time with the objects sharing your words and interpretations with them.
Mathew Tobin
Senior Lecturer in Education: Primary English and Children's Literature
Oxford Brookes University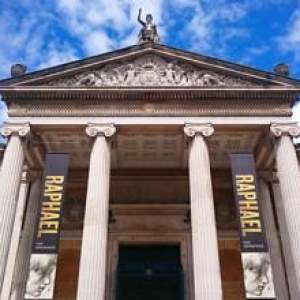 Previews and Reviews of Objects in the Ashmolean
09/07/2017
 An Art and Poetry Resource by Diana Moore
Claire Frampton says: I work as a gallery attendant and my theatre in heritage project is about imagining theatre in the Ashmolean live events. Reading this book made me feel enthused about different perspectives creative interpretation can bring. I liked the arrangement of photos, description and poetry. I liked the way the book presented new ways of thinking creatively about objects.